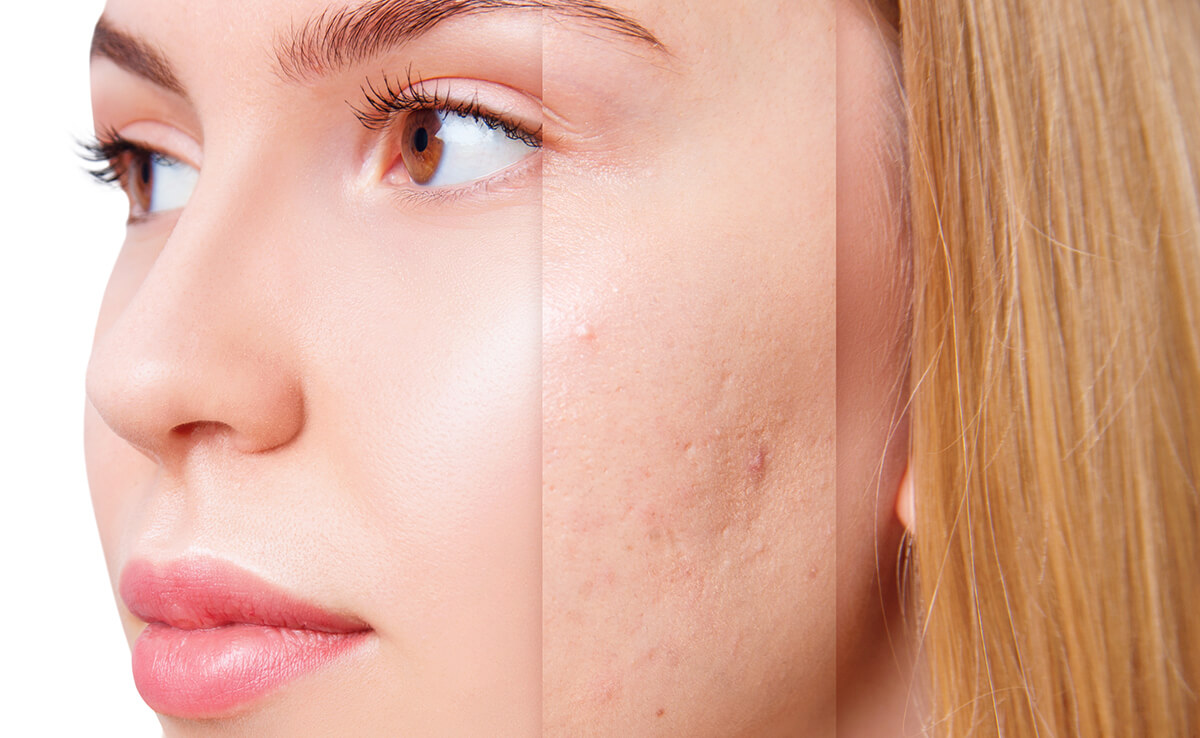 WHAT IS ACNE SCAR TREATMENT?
Dealing with unsightly acne is one thing, but we don't have to accept the scarring that can come with it.  When the pores in our skin get clogged and inflamed with bacteria and dead skin, it can leave an acne scar. As our body repairs the damage caused by these conditions, it produces collagen fibers which can leave either raised skin or leave behind skin depressions or craters, thus creating a scar. At Modern Medical Spa in Dallas and Plano TX, our expert medical professionals use a microneedling tool called SkinPen. This revolutionary technique can help to improve to appearance of unsightly scars caused by acne or pimples, leaving you with a more even skin tone and smooth complexion.
IS ACNE SCAR TREATMENT RIGHT FOR ME?
Microneedling treatments with SkinPen may be ideal if you are bothered by the appearance of visible facial scars and blemishes resulting from acne. minimize discoloration left behind from a variety conditions that are the result of acne. Whether you have hypertrophic (keloid) scars that have a raised texture and depressed (atrophic) scars, rectangular shape (boxcar scars),"V" shape (icepick scars), or pimple scarring , our staff can help to minimize discoloration and give you a more even-tones and radiant looking skin.
WHAT TO EXPECT WITH ACNE SCAR TREATMENT
We perform our acne scar treatment using the handheld SkinPen microneedling tool. This  minimally invasive service uses device uses fine-gauge needles to create micro-injuries in the scar tissue areas, which stimulates collagen and elastin production in your skin to trigger your body's natural healing response. The result is a softer, smoother complexion, diminishing the appearance of facials scars. The treatment usually takes about 15 – 30 minutes to complete, although this will be dependent on the number of areas being treated.
How many acne scar treatments will I need?
This will depend on the level of scarring you may have. Our medical aestheticians can assess the extent of your scarring and recommend a treatment plan, so we can achieve your desired cosmetic result.
Can acne scars go away on their own?
Acne scars are unlikely to fade without treatment. By using the microneedling technique, As the skin heals, it makes collagen, helping scar tissue to look less prominent leaving your skin smoother and more even-toned.
How much does acne scar treatment cost?
The cost of acne scar treatment will depend on the number of sessions needed to achieve your aesthetic goals. At your initial consultation, we will review your out-of-pocket costs, and go over a variety of payment options to make treatment more affordable.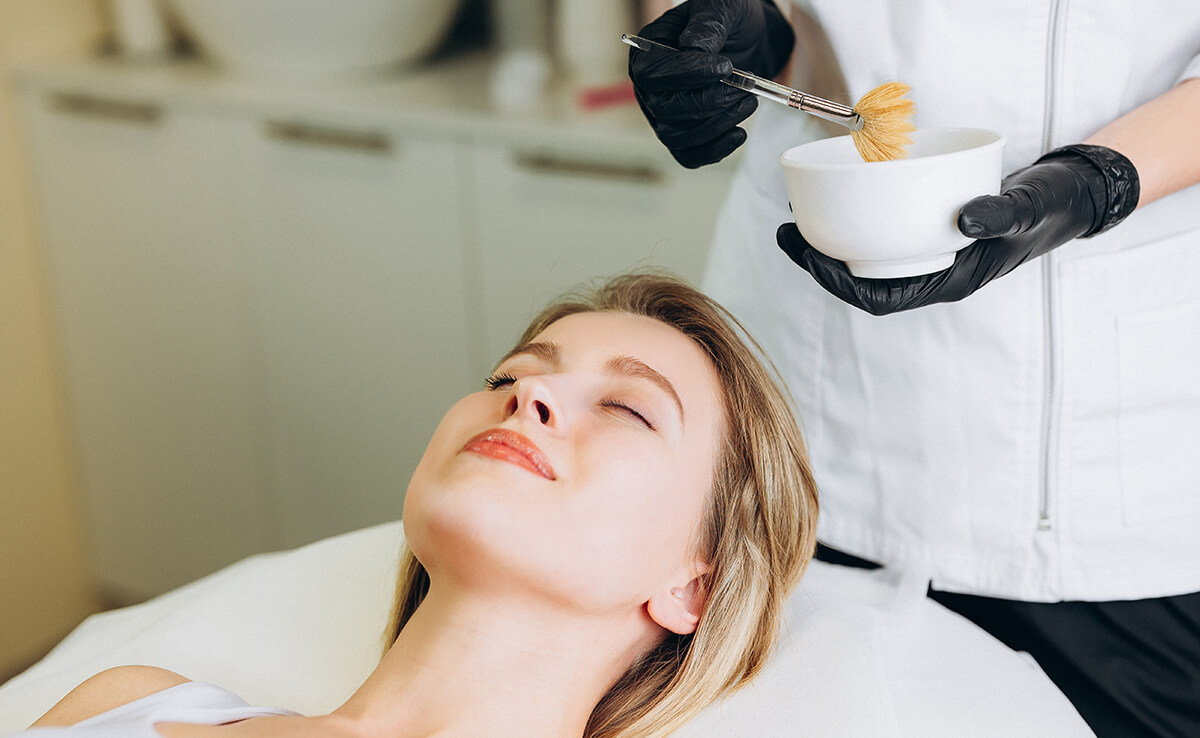 WHAT ARE CHEMICAL PEELS?
A chemical peel is a skin treatment that exfoliates, deep cleans, and nourishes the skin for a more luminous glow. At Modern Medical Spa, our highly trained aestheticians offer top-grade chemical peels to help give you a healthier, smoother, younger-looking complexion. Offering a collection of skin peel options, our team expertly performs chemical peel treatments that help improve the appearance of acne scars, fine lines, wrinkles, dry patches, hyperpigmentation, and other skin concerns. Chemical peels work by penetrating the skin's surface layer to dissolve dead or damaged skin cells, stimulate collagen production, unclog pores, replenish moisture, and reveal a refreshed, new layer of skin. Used on the face and neck, chemical peel facials from our med spa in Dallas, TX are noninvasive procedures designed to make your skin healthier and simply more radiant.
VARIATIONS OF CHEMICAL PEELS
Modern Medical Spa provides SkinCeuticals chemical peels formulated with a selection of exfoliating solutions, such as glycolic, alpha-hydroxy, beta-hydroxy, and trichloroacetic acids. We offer varying levels of facial peel strength to meet your skin care needs.
Superficial peels: You can have a light chemical peel on a lunch break and go right back to your day. This light peel removes the outer skin layer (the epidermis), giving your face a more radiant appearance and softer texture. We usually recommend that you receive a light chemical peel at least once a month for ideal results.
Medium-depth peels: Since this level of peel penetrates further into the skin, patients often choose to have medium-depth peels during a long weekend. This type of facial treatment is designed for patients who have deeper damage to their skin, such as prominent wrinkles and darker pigmentation concerns.
Deep peels: The strongest of the three levels of peels is the deep chemical peel, and it does require the lengthiest recovery time. Patients who undergo a deep chemical peel typically have dark age spots, sun damage, significant acne scars, or deep scars. To enhance your comfort during this type of peel, your aesthetician may anesthetize your skin prior to the treatment.
SHOULD I GET A CHEMICAL PEEL?
Receiving the advice of an aesthetic specialist is the first part of the journey to smooth, healthy skin. A team member at Modern Medical Spa can assess your skin during a private consultation at our Dallas, TX facility before selecting the ideal chemical peel treatment for your optimal results. Women and men who are good candidates for chemical peels are often those with:
Visible signs of aging
Rough patches of skin
Uneven texture and tone
Fine lines and wrinkles
Hyperpigmentation
Acne scars
Dullness
Flaky skin
Sun spots
Large pores
WHAT TO EXPECT WITH FACIAL PEELS
The type of chemical peel that is best for you will vary based on your unique skin concerns and cosmetic goals. These skin care treatments are provided within the relaxing, tranquil treatment rooms at our Dallas, TX med spa. Depending on the level of the facial peel you receive, you may experience peeling or itching for a period of days following your visit. Your aesthetician will provide you with post-treatment instructions, including how to care for your skin, the use of sunscreen, and avoiding picking or peeling the skin while it recovers. As your skin heals and starts to rejuvenate itself, you should begin to notice a smoother, clearer complexion. Chemicals peels may also be combined with another skin or aesthetic treatment at Modern Medical Spa to help comprehensively address your cosmetic concerns.
Does a chemical peel hurt?
Chemical peels may cause some discomfort, but the discomfort is temporary and goes away after a few hours. If you're concerned about pain, Modern Medical Spa recommends getting a superficial (or light) peel at first. As your comfort level improves, you can move forward with medium-depth or deep peels.
What type of chemical peel should I get?
The best chemical peel depends on your skincare needs and goals in Dallas, TX. This is why a consultation is so important. Our professionals will consider your health, skin sensitivity, and how much time you have to heal after the treatment. You'll then have a personalized chemical peel plan.
Can I combine a chemical peel with other treatments?
It is possible to combine a chemical peel with another treatment at our clinic. This could include injectable wrinkle relaxers and dermal fillers for more dramatic results. During your initial skin assessment, be honest about your cosmetic concerns so we can rejuvenate your whole appearance and meet your goals.
REVEAL HEALTHIER, MORE YOUTHFUL SKIN
Explore the benefits of healthy skin rejuvenation with professional chemical peels at Modern Medical Spa. Our Dallas, TX aesthetic team offers personalized facial peel treatments to renew your skin and target blemishes or other concerning skin problems. To learn about chemical peel costs, financing solutions, or to book your one-on-one skin consultation, contact us today!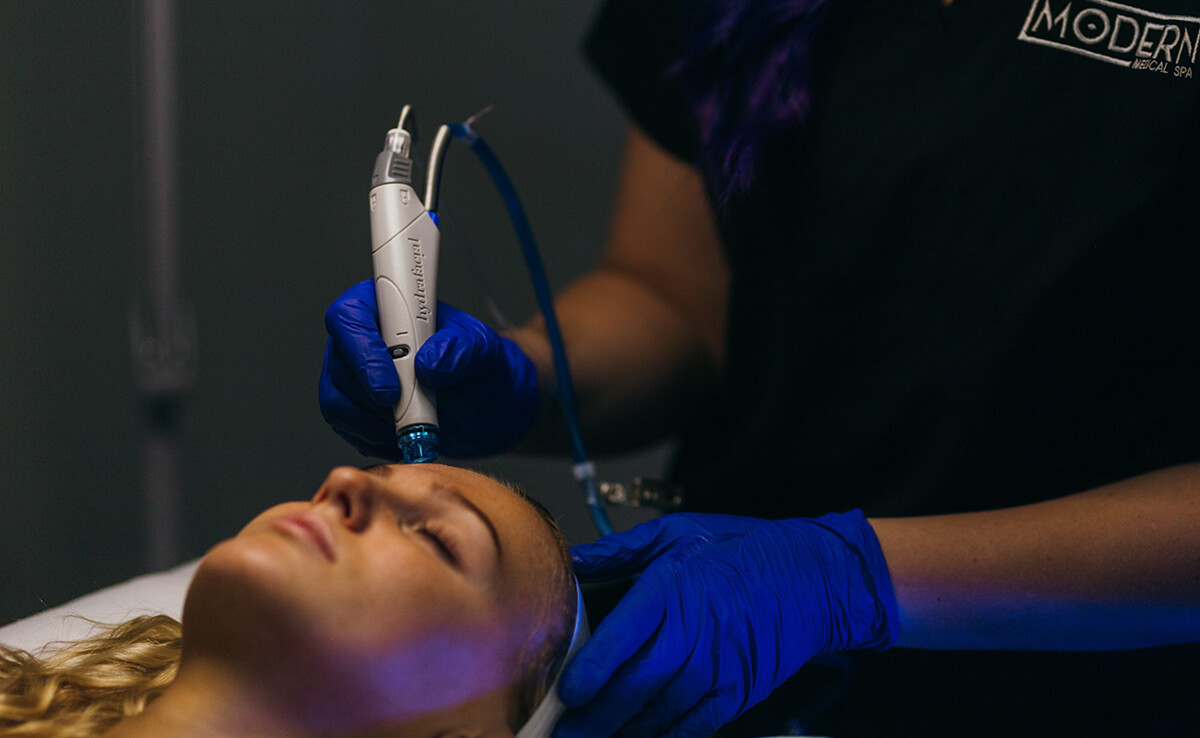 Immediate Results
The HydraFacial MD® is the most advanced and effective facial treatment, delivering results immediately. The focus of the treatment is to remove impurities and replenish the skin with essential nutrients leaving you immediately with noticeable results.
The HydraFacial MD® is the only hydra-dermabrasion procedure that cleanses, detoxifies, exfoliates, extracts and hydrates all in one treatment! The treatment is effective for every skin type, has no downtime, no discomfort, and leads to healthy and rejuvenated skin. Even for patients with sensitive skin, the treatment is soothing, refreshing and effective!
In addition to improving overall skin health, the non-invasive HydraFacial MD® treatment will remedy:
Skin tone, texture, evenness, & vibrancy
Fine lines and wrinkles
Elasticity and firmness
Congested/oily skin
Enlarged pores
Advanced signs of aging
Brown spots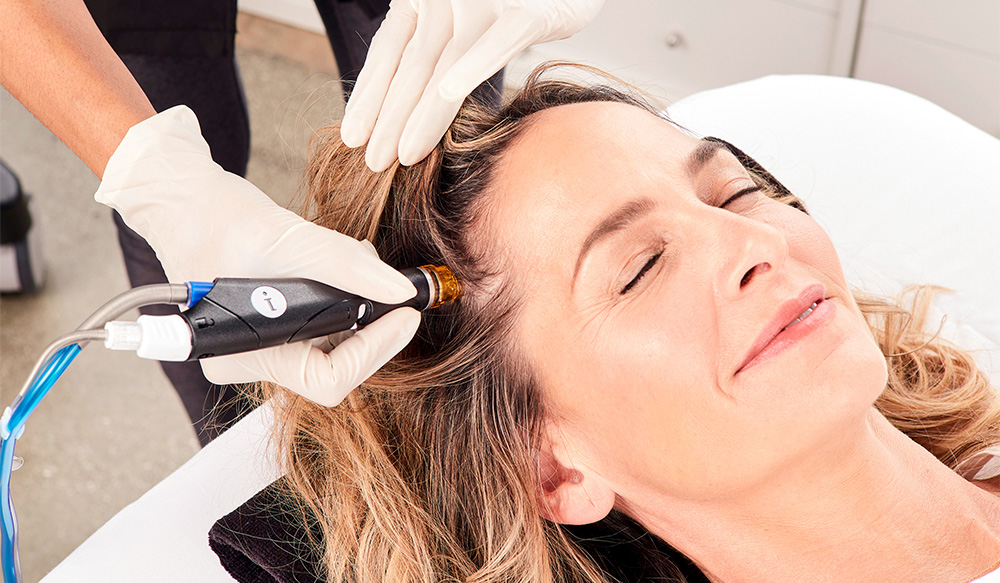 Patented Suction Technology by HydraFacial MD® to boost scalp health and hair growth
The Keravive treatment aims to improve the health and appearance of the scalp by addressing common scalp issues such as dryness, flakiness, oiliness, and congestion. It typically involves several steps:
1. Assessment: A professional skincare specialist assesses the condition of your scalp, discussing any concerns or issues you may have.
2. Cleansing: The scalp is thoroughly cleansed to remove any product buildup, excess oil, or impurities. This step helps create a clean canvas for the subsequent treatments.
3. Exfoliation: A gentle exfoliation process is employed to remove dead skin cells and unclog the hair follicles. This can help promote better hair growth and reduce scalp congestion.
4. Hydration: A hydrating solution is applied to the scalp to moisturize and nourish the skin. This step helps alleviate dryness and provides a healthy environment for the hair follicles.
5. Scalp Massage: A soothing scalp massage is performed, which can help improve blood circulation and promote relaxation. It may also aid in the absorption of the treatment products.
6. Nutrient Infusion: A blend of specialized nutrients, vitamins, and peptides is applied to the scalp. These ingredients are designed to nourish and revitalize the scalp, supporting healthy hair growth and improving overall scalp condition.
The key benefits of Keravive or similar scalp treatments can vary but may include:
1. Improved Scalp Health: By addressing common scalp issues, the treatment can help restore the balance of the scalp, reducing dryness, oiliness, and flakiness. This can contribute to a healthier environment for hair growth.
2. Enhanced Hair Growth: A clean and nourished scalp is essential for optimal hair growth. By promoting scalp health, the treatment may support healthier and stronger hair growth.
3. Increased Blood Circulation: The scalp massage involved in the treatment helps stimulate blood flow to the scalp, which can promote hair follicle health and contribute to a healthy hair growth cycle.
4. Relaxation and Stress Relief: The scalp massage and overall treatment experience can provide a relaxing and calming sensation, offering stress relief and a sense of well-being.
Consult with one of the Modern Medical Spa licensed professionals for the most accurate and up-to-date information on Keravive or any other scalp treatments offered by HydraFacial or other providers.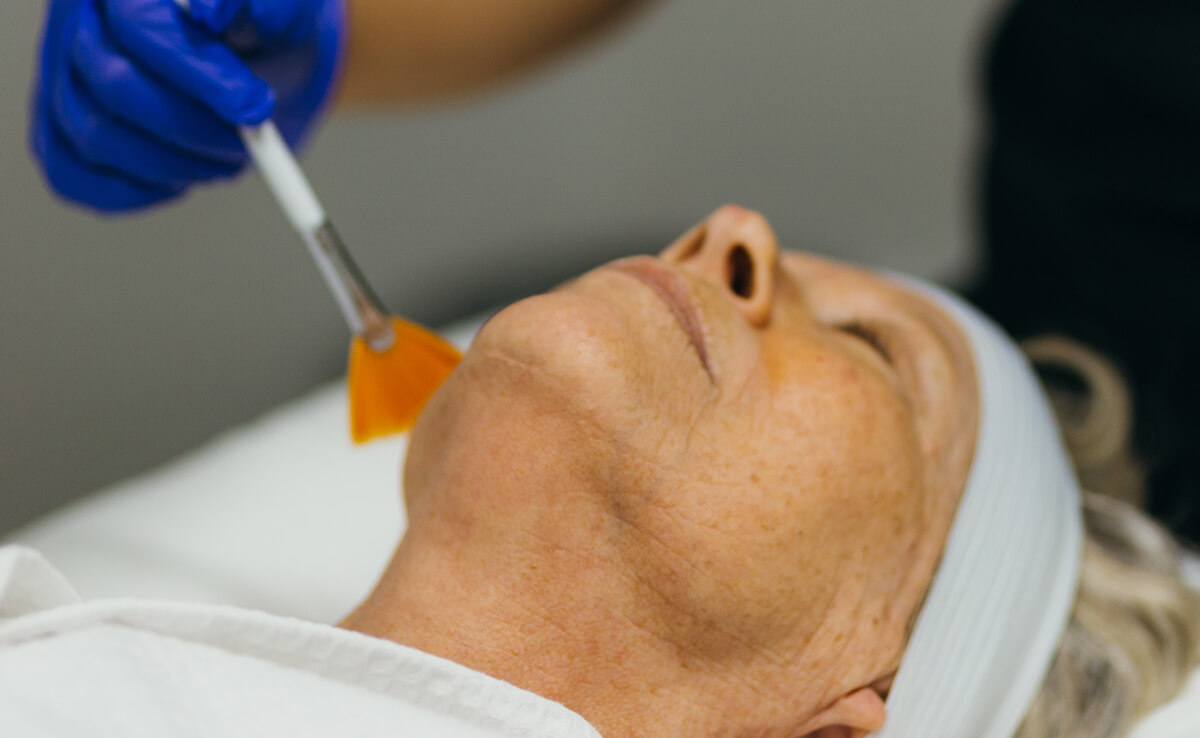 Experience the resurfacing and rejuvenation of the legendary Fire & Ice Facial. Designed to rapidly and safely resurface the skin, this professional treatment involves the combination of warming and cooling sensations that will leave your skin feeling refreshed and invigorated. Often referred to as the "Red Carpet Facial", it has been the go-to treatment of celebrities and non-celebrities alike for its effective benefits. Beginning with an intensive resurfacing masque to heat up the skin, the treatment is concluded by a rejuvenating masque to cool down. Enjoy added benefits of refined skin texture, diminished look of blemishes, and improved appearance of fine lines and wrinkles – all with little to no downtime. Schedule your Fire & Ice Facial with a professional today!