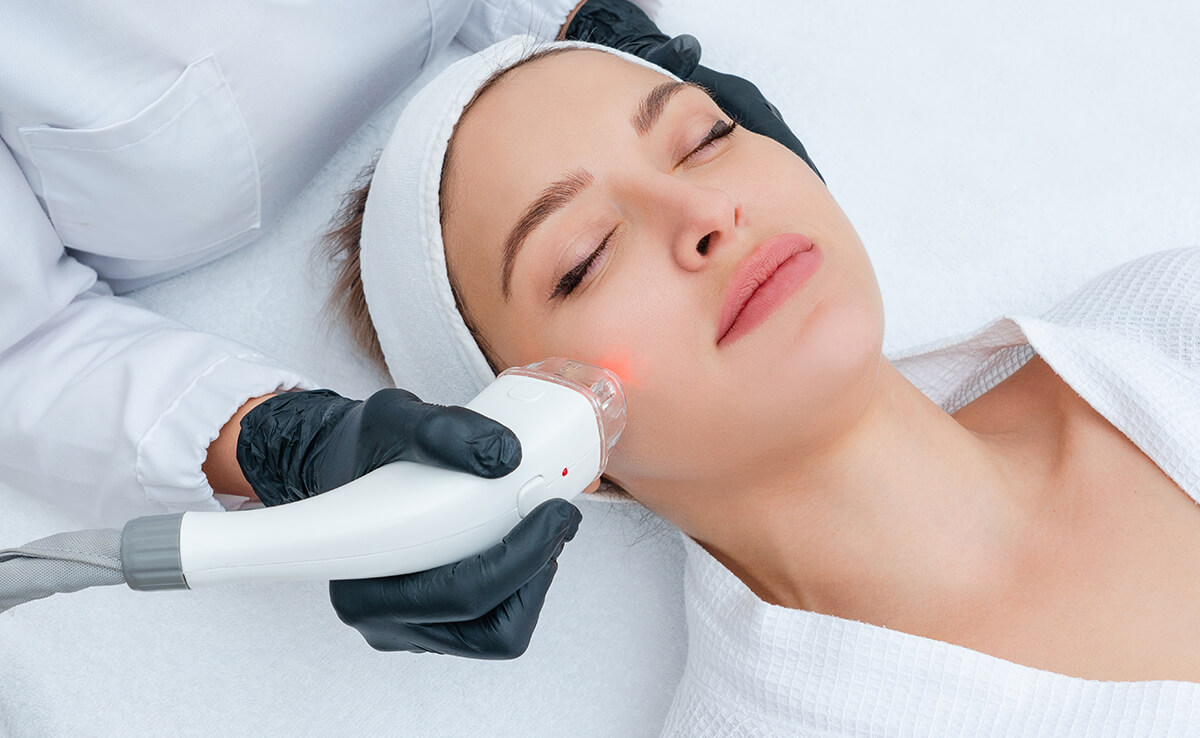 Laser Skin Resurfacing in Dallas, TX
Skin resurfacing with Moxi™ at Modern Medical Spa in Dallas, TX is a nonsurgical cosmetic treatment that uses pulsating beams of energy to eliminate damaged surface skin layer by layer. The procedure is great for reducing facial wrinkles and lines and for improving skin irregularities, including acne scars, pigmentation, and other issues. Also known as a laser peel, fractional skin resurfacing is a great treatment for patients who want clearer, softer, youthful-looking skin. Depending on the condition of the patient's complexion, the laser will be adjusted accordingly. There is some recovery time associated with most laser skin resurfacing facials. Any questions or concerns can be reviewed with our medical team during your assessment and consultation.
IS LASER SKIN RESURFACING RIGHT FOR ME?
When choosing the best laser skin resurfacing procedure for your skin, our team will need to consider several factors. Laser skin resurfacing is ideal for people who feel unhappy with their general complexion. This procedure can help treat skin imperfections, like:
Sun damage
Age spots
Acne scars
Wrinkles
Fine lines
Redness
Pigmentation issues
Scaly patches
Rough texture
Other skin surface problems
However, we do not recommend laser skin resurfacing for anyone with very dark skin or active acne. It is also important to know that you will require a recovery period after your laser treatments. Depending on the skin's condition, some patients may require up to 2 – 3 weeks for recovery.
How does laser skin resurfacing work?
Before you are scheduled for a more intense or deeper skin resurfacing session, you may be given a topical retinoid for 2 – 3 weeks before your laser procedure. This helps prepare the skin for more effective results. Medication may be prescribed prior to the procedure to help minimize discomfort so you can relax during your session. If your skin needs mild improvement, a topical anesthetic will be used to numb treated areas of the face. For the full complexion or more intense laser treatments, a kind of sedation may be used. During the procedure, you can relax in our special treatment chair while the laser passes over the skin, precisely targeting the needed areas for rejuvenation. At Modern Medical Spa, we use the Moxi laser platform, which allows us to treat patients of all skin types with little to no downtime. This state-of-the-art technology uses fractioned wavelengths in order to destroy damaged and dead skin cells while also stimulating new collagen growth.
What to expect after laser skin resurfacing
After milder resurfacing sessions with the Moxi laser, a healing ointment may be smoothed over the treated skin before you go home for your recovery. The treated skin will appear red, and there will be some irritation and swelling. This should subside within a couple of days, and the skin peeling process will occur over a 3 – 5-day timeframe. Every patient needs to limit their sun exposure following their laser treatment and use sun protection throughout the day. Regardless of the intensity, the treated skin will naturally crust, flake, and peel away. It's vital to avoid interfering with the healing process to keep from scarring and to protect your face from sun exposure. After the peeling has completed, the treated skin should feel smoother while also looking clearer, younger, and rejuvenated.
What's the best type of resurfacing for me?
Dr. David Genecov and our team at Modern Medical Spa will help you choose which resurfacing option is best for your concerns and goals during your consultation. The best treatment for you will depend on the condition of your skin, any skin problems, and the skin depth you want your treatment to reach. How long you are willing to give your recovery may also be a deciding consideration when choosing your treatment type. When in doubt, it's best to try a lighter treatment, then assess your results and adjust as needed for your next treatment.
How can I help my skin recover after a resurfacing treatment?
Dr. Genecov or a member of his team will give you recommendations on how you can speed skin healing after a resurfacing treatment. The top rule is to not pick or peel flaking skin. This can create lasting damage, like scars. You need to skip all hair removal methods on the treated skin, which include shaving, waxing, or depilatory creams. We can suggest an ointment to help soothe your skin.
How often should I get laser resurfacing treatments?
Depending on the resurfacing options chosen for your procedure, you might need to wait several weeks or even a few months between appointments. Deep treatments will provide results that last a long time; however, they do need more time for recovery. You should talk to our team about how often you are willing to come back for treatments so we can take this into account when choosing a type of resurfacing during your consultation.
A SOFTER, CLEARER COMPLEXION
Modern Medical Spa laser skin resurfacing procedures offer amazing results for those looking to get a younger-looking appearance by making full use of the Moxi technology. If you are curious about laser treatments and would like to hear more about them, and about other nonsurgical procedures at our Dallas, TX practice, we invite you to contact us today to make your consultation.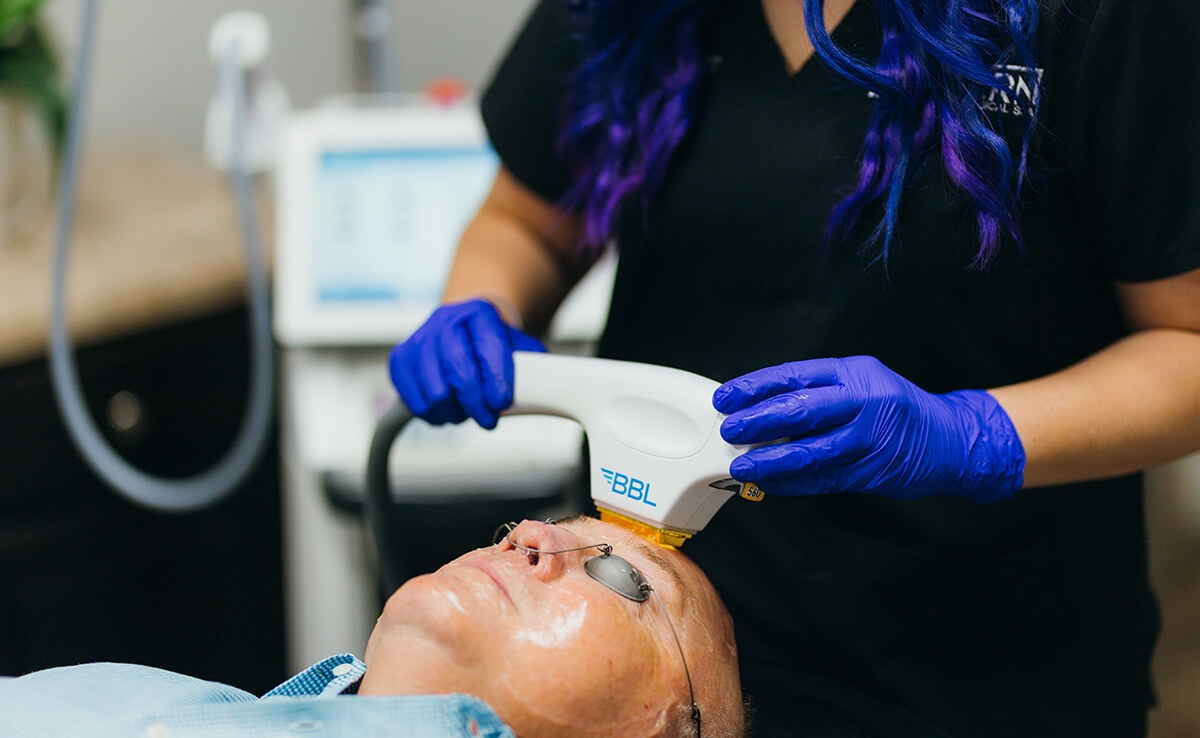 BroadBand Light™ Therapy
_
BroadBand Light™ Therapy in Dallas, TX
BroadBand Light Therapy (BBL™) uses advanced regenerative technology to enhance skin health and aesthetics to reveal a more youthful, vibrant complexion. At Modern Medical Spa, our highly trained and certified technicians use the cutting-edge Sciton® mJOULE™ laser for this facial treatment, which produces therapeutic intense pulsed light (IPL) energy that mildly heats the skin and ignites collagen production. Individuals with a variety of skin conditions may benefit from BBL photofacial therapy, as it can minimize the appearance of aging skin, rosacea, broken blood vessels, sun damage, unwanted freckles, and other skin concerns. Our Dallas, TX team also offers Forever Clear® BBL for patients who suffer from acne and have not found results from other treatment options. BBL therapy can also help create a more even and smooth surface texture to generate a fresh, luminous complexion. Modern Medical Spa is thrilled to offer BBL to Dallas, TX men and women as a single treatment or in combination with other services to help revitalize skin health and appearance.
Am I a candidate for bbl therapy?
BBL photofacial treatments may be ideal for adults who wish to improve the appearance of hyperpigmentation, such as sun spots or freckles, or unevenly textured skin caused by acne, sun damage, rosacea, or damaged capillaries, among other conditions. BBL can also help to make the complexion appear younger and improve its tone and clarity by igniting the regeneration of collagen in the top layers of skin. All areas of skin can be improved with BBL; however, some of the most commonly treated regions are the face, neck, hands, chest, shoulders, and upper back. Patients who have persistent acne may also be ideal candidates for Forever Clear BBL treatments in which the advanced light therapy can eliminate acne-causing bacteria. Before undergoing treatment, one of our skilled medical aestheticians will help you explore your treatment options and understand how BBL technology might help you reach your aesthetic goals.
What to expect with a photofacial
Each BBL and Forever Clear BBL photorejuvenation session is performed in one of our private, luxurious treatment rooms and generally only takes about an hour to complete. Most patients experience little to no discomfort during the procedure and typically do not require any downtime. While many other laser alternatives may take several weeks to reach the full results, the Sciton mJOULE can do so in just a quarter of that time.
At the end of your visit, you will be given post-treatment care instructions to help optimize your skin results, such as reducing sun exposure following your photofacial treatment. Outcomes from BBL therapy may be seen within 2 – 6 weeks of the initial treatment while best results can generally be observed after repeat photofacial therapy. Our experienced aesthetic team can help you curate an ideal cosmetic plan with the appropriate amount of BBL therapy sessions to help achieve your desired outcome.
How much does BBL cost?
Our skilled team at Modern Medical Spa will be able to talk about your costs during your consultation as soon as your BBL plan is developed. BBL costs will vary, depending on what area(s) you are having treated, the treatment area(s) size, and how many treatments you will need. After the condition of your skin is evaluated, we will listen to your goals and work with you to create your treatment plan. Modern Medical Spa also frequently runs specials on treatments, like BBL, so watch our website or ask about current deals when you make your appointment.
How many treatments will I need?
How many BBL treatments you need will be discussed in your initial consultation as soon as your skin's condition is evaluated. Generally, patients achieve their skin goals after three sessions. However, if you have severe sun damage, pigmentation, or discoloration, you may require more sessions. During your initial consultation, our aesthetic team will listen to your goals and develop your custom plan. Your treatments will be scheduled about one month apart to allow your skin to heal.
What areas can be treated with BBL and Forever Clear BBL?
Almost all areas of skin may be treated with BBL, but some of the most popular areas are the face, chest, hands, neck, shoulders, and upper back. These areas typically have the most damage because they're regularly exposed to the sun. The face and hands are also most often affected by lifestyle and natural aging so treating these areas can help improve your whole appearance. Additionally, Forever Clear BBL may be performed anywhere you suffer from acne, including the face, chest, and back. In your initial consultation, we will talk about all your concerns so an ideal BBL treatment plan can be created.
How is BBL different from other lasers?
Made by Sciton, the innovative BroadBand Light is a high-powered IPL (intense pulsed light) treatment. The dual lamps and wide range of energy wavelengths allow our skilled, Dallas, TX team to personalize your treatment to meet your skin concerns. Utilizing varying wavelengths, BBL can treat red and brown lesions, as well as dark and light spots, without harming the surrounding skin and tissue. Effective and safe, BBL can give you a better complexion in less time compared to many other skin treatments.
Is BBL safe for all skin tones?
Since the energy wavelengths in a BBL treatment can be adjusted for your unique needs, BBL is safe for all skin types and tones. To get your best results, our team suggests you avoid unprotected ultraviolet (UV) light exposure (both tanning beds and natural sunlight ) for at least 10 – 14 days before your appointment. Tanned skin has higher levels of melanin (pigment), which can absorb the energy and impact your results. Your skin will be extra sensitive to UV exposure so you should continue to limit your sun exposure and not use tanning beds throughout your treatment and for a minimum of 10 – 14 days after your last treatment.
THE AGE-DEFYING EFFECTS OF SCITON BBL AND FOREVER CLEAR BBL
BroadBand Light Therapy with the Sciton mJOULE is an exciting solution to enhance the look and feel of your skin. By creating more youthful, luminous, and even skin, BBL and Forever Clear photofacials at our Dallas, TX med spa can help you renew your confidence in your complexion and overall appearance. To learn more about treatment, financing, and whether it is an ideal choice for you, call Modern Medical Spa to schedule a personalized consultation!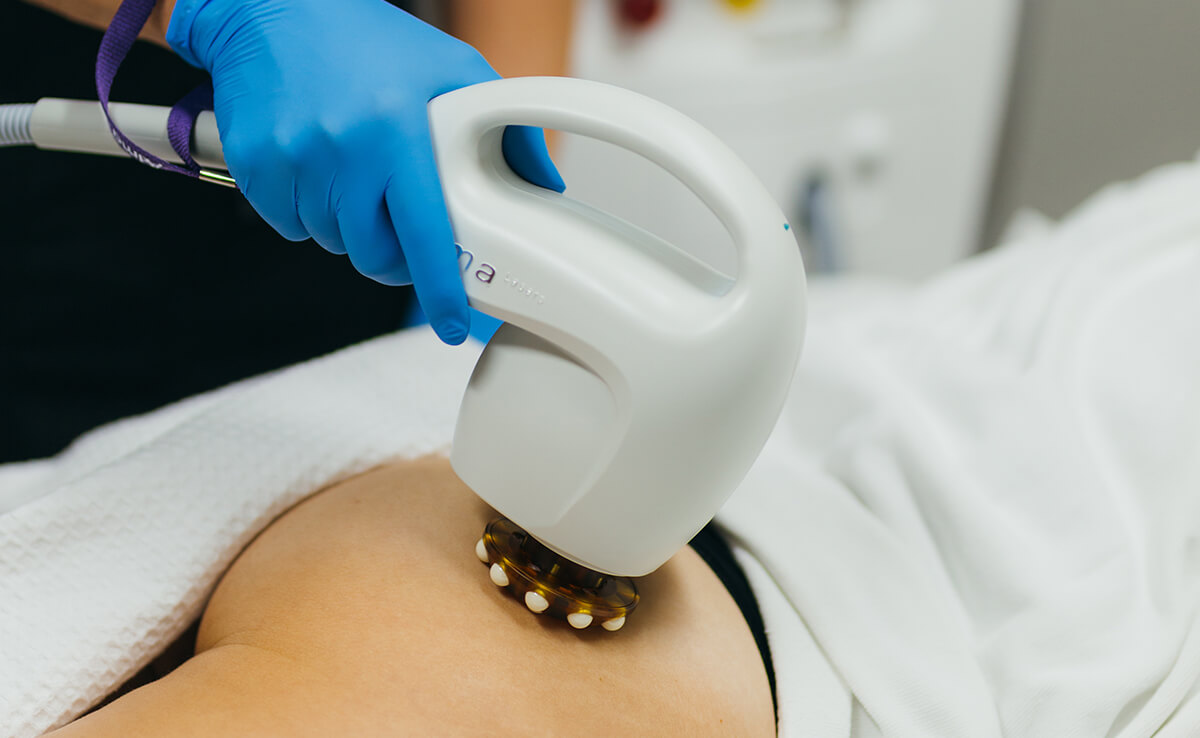 WHAT IS RF SKIN TIGHTENING?
Throughout our younger years, we benefit from an ample supply of nutrients that keep our skin smooth and resilient. As we age, however, this essential stock of nutrients starts to diminish, making our skin lose firmness, which results in laugh lines, Crow's feet, and skin that droops. If you wish to elevate the look of your skin without surgery, you may want to consider RF (radiofrequency) skin tightening at Modern Medical Spa. By using the cutting-edge Accent Prime, this noninvasive skin tightening procedure helps stimulate the natural production of elastin and collagen so it's possible to obtain more taut, healthier skin. Dr. David Genecov and his staff in Dallas, TX are proud to perform RF skin tightening for men and women who want to rejuvenate and tone their skin with effective, nonsurgical solutions.
Am I a candidate for skin tightening?
RF skin tightening could be a great treatment for those who do not qualify for invasive cosmetic surgeries. This procedure can be effective for various regions of the face and body, which can include the stomach, submental area, upper arms, and outer thighs. The best patients for this nonsurgical treatment:
Are in good general health
Keep up with their ideal weight
See slight or moderate skin laxity (looseness)
Have lines or wrinkles on their face or body
Wish to add subtle enhancements to the condition and aesthetic appeal of their skin
What can I expect after RF skin tightening procedures?
After your procedure, the affected regions may appear red or swollen, and the skin may feel uncomfortable. However, any irritation should resolve quickly. When you have your session at Modern Medical Spa, Dr. Genecov or a member of his team will let you know the best methods to treat your skin after your procedure. During your recovery, it's important to use a moisturizing cream and apply sun protection. The majority of individuals won't see outcomes immediately following their treatment. Because the production of collagen and elastin can take time, you will see your best results within the next few months. Results from RF skin tightening can remain in place for a long time.
How much does RF skin tightening cost?
The price of your RF skin tightening treatment will depend on the number of sessions you need to meet your desired look. During your initial consultation, we'll discuss your aesthetic desires and produce a unique treatment plan, which consists of a price quote.
How many treatments will I need to achieve the look I want?
The correct amount of treatments will be based on the starting looseness of your skin, along with your cosmetic concerns. During your initial consultation, we will inquire about your concerns and goals so that we can decide how many treatments would be the most beneficial.
Can I have RF skin tightening with other treatments?
Yes. RF skin tightening can be done as the only procedure or in conjunction with other treatments. Quite a few of our patients opt to undergo RF skin tightening at the same time as other nonsurgical treatments.
Does RF skin tightening hurt?
At Modern Medical Spa, our top priority is to ensure you are relaxed for the duration of your procedure. While the majority of individuals find that this noninvasive treatment doesn't cause pain, we can offer a topical anesthetic to help you feel relaxed so you can have a wonderful experience.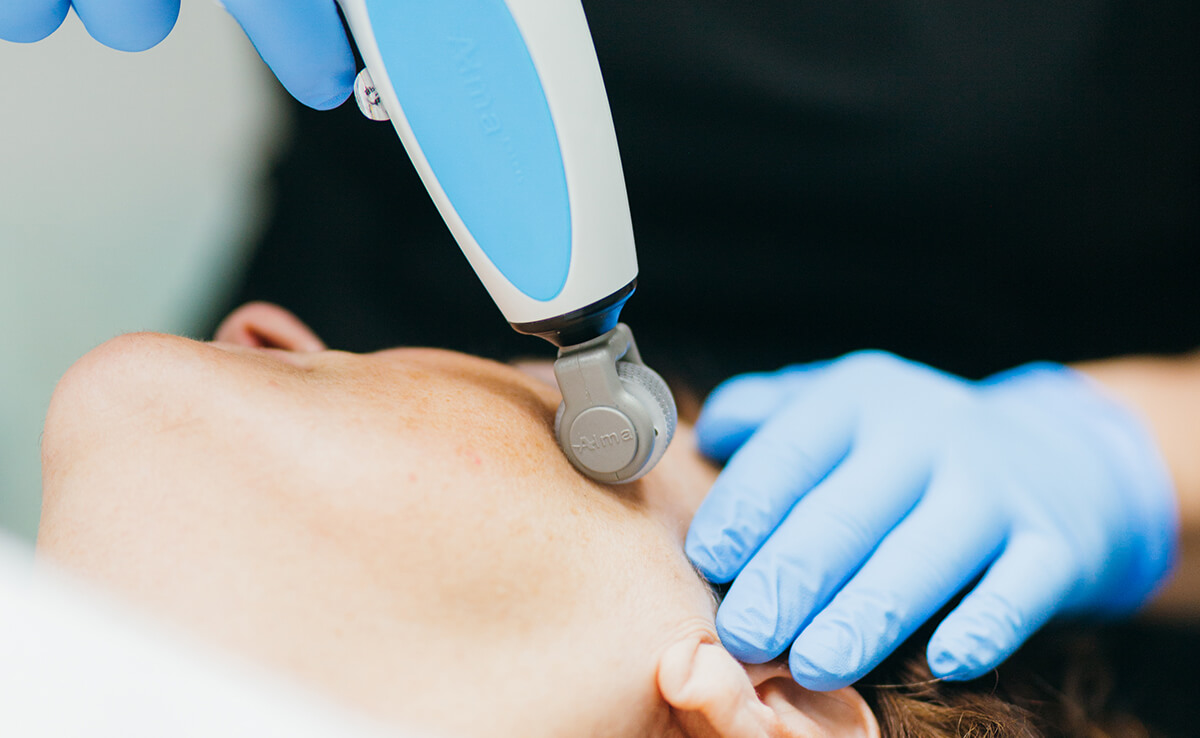 WHAT IS RF SKIN RESURFACING?
Skin resurfacing with radiofrequency (RF) technology at Modern Medical Spa is a nonsurgical cosmetic treatment that uses pulsating beams of energy to remove damaged skin one layer at a time. The procedure is used for correcting facial lines and wrinkles and for diminishing skin irregularities, including pigmentation, acne scars, and other flaws. Skin resurfacing utilizing the Accent Prime is considered an effective facial treatment for people who want clearer, softer, younger-looking skin. This can even be a good solution for reducing stretch marks for smooth, radiant skin. Call us to schedule your skin resurfacing with Dr. David Genecov in Dallas, TX soon.
Am I a candidate for RF skin resurfacing?
RF (radiofrequency) skin resurfacing with the Accent Prime platform is designed for patients who are unsatisfied with their skin's appearance due to the effects of aging, skin damage, or simply a dull complexion. If you have sun damage, acne scars, age spots, wrinkles and fine lines, pigmentation, or redness troubles, this treatment can be beneficial to improve these complexion blemishes. In addition, this treatment works well for those who have scaly patches, a rough texture, or other skin irregularities. RF skin resurfacing is safe and effective for all skin types.
What can I expect with RF skin resurfacing?
At your procedure, you will relax in a dedicated treatment chair while the Accent Prime handheld device glides over your skin, honing in on the treatment areas. You will experience the warmth from the applicator, followed by cool air from the built-in cooling device. The radiofrequency wavelengths work to destroy dead and damaged skin cells, reduce the appearance of wrinkles and fine lines, recontour the face and neck, tighten sagging skin, and improve acne scars while encouraging increased collagen production for a refreshed, rejuvenated look. Based on the condition of your complexion, the treatment can be adjusted for optimal results.
Following your appointment, you may experience mild redness in the treated area, but this will likely fade after a short period. As your skin heals, you should avoid peeling or picking at your skin. Your revitalized look should last long term and may be repeated as necessary. Although your results may be long-lasting, it's critical to remember that this procedure does not end your body's innate aging process.
How much does RF skin resurfacing cost?
Your RF skin resurfacing cost will differ, depending on the type of treatment you select. During your initial consultation, Dr. Genecov will get to know you and your skin issues and goals. After this, he can help you decide on your resurfacing treatment and discuss costs.
How can I help my skin recover after RF skin resurfacing?
Skin resurfacing recovery with Accent Prime is a lot faster than resurfacing with a laser. Dr. Genecov or a member of his team will give you tips on ways to speed skin healing after an RF resurfacing treatment. The most important rule is to not peel or pick your skin. Doing this can lead to long-term damage, including scars. You should skip all hair removal methods in the treatment area, which includes shaving, waxing, or depilatory creams, as well as applying sun protection and covering the treated area. We can suggest an ointment to help soothe your skin.
How often should I get skin resurfacing treatments?
Seeing that RF skin resurfacing isn't overly intense, you might only need to wait a few weeks between sessions. This is something you will discuss during your consultation so we can help you reach your skin goals.
"I have seen Jenna Gautille for a few procedures and have been more than pleased every time! She's truly the best at what she does and has the personality of a saint!! Her facials are GRADE A! The scar removal treatments I have received from her have been jaw dropping when I look at the difference in such a short amount of time! She always knows how to spark up a good conversation to make the scar removal treatments fly by; which also helps to keep my mind distracted so it does not sting as much. She is very knowledgeable on skin care and will answer all of your questions thoroughly. I HIGHLY recommend Jenna for any procedure you may be considering."

CLIENT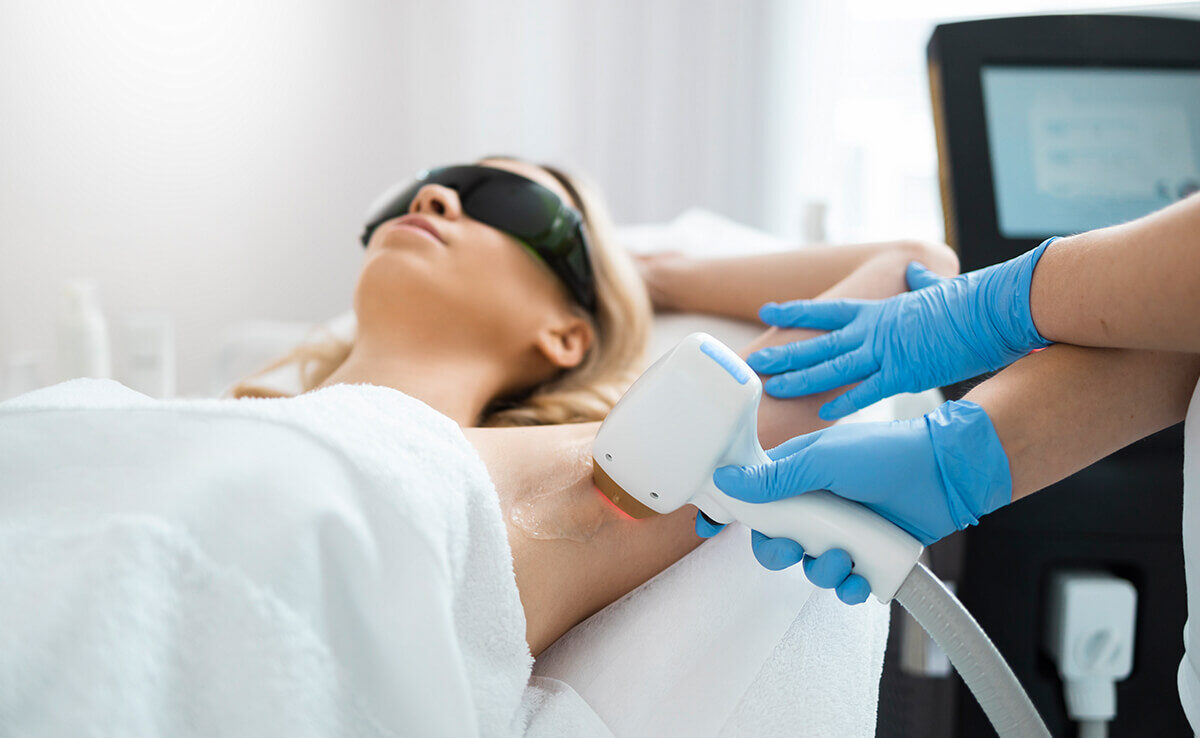 WHAT IS LASER HAIR REMOVAL?
Laser hair removal is one of the most popular cosmetic treatments in the United States. It's a convenient way for the long-term removal of unwanted hair on the body and face. This treatment usually leaves the skin feeling and looking smoother while providing longer-lasting results compared to other hair removal methods. Modern Medical Spa in Dallas, TX performs effective and safe laser hair removal services for both women and men in commonly desired areas, like the arms, back, legs, face, armpits, and bikini area.
IS LASER HAIR REMOVAL RIGHT FOR ME?
Hair removal with a laser is a gentle procedure that is suitable for most patients. At your consultation, we will discuss your needs, concerns, and goals to help determine if you are a good fit for this treatment. Ideal patients for laser hair removal:
Have unwanted facial or body hair
Are tired of other hair removal techniques (waxing, shaving, bleaching, depilatory creams)
Have light skin and dark hair
Are in overall good health
How does laser hair removal work?
On the day of your appointment, you will lie in one of our treatment rooms as areas of your face and body being treated are cleaned to eliminate oil, dirt, and moisturizers. During laser hair removal, a team member will smooth out the area to provide a direct pathway between the laser and the hair follicle root. The laser beam will target and kill the hair follicle, which prevents the hair from growing again. Typically, you will need 3 – 5 sessions over 3 – 4 weeks to get your ideal results. Your treatments will be staggered to allow the affected areas time to recover. This also allows time for hair follicles in the dormant phase to cycle into the active growth phase so the laser can be effective. The state-of-the-art Forever Bare BBL technology we use at Modern Medical Spa targets only the hair follicle, which preserves the skin in the area being treated.
About Forever Bare BBL™
While most laser hair removal devices concentrate 100% of their energy, Forever Bare BBL is a groundbreaking technology that uses lower pulses at high repetition rates in order to create a treatment that is safe, efficient, and fast. Additionally, the handpiece is outfitted with thermoelectrically cooled sapphire plates, which keep the skin comfortable at all stages of the procedure. This technology can treat up to skin level V, making it perfect for patients of almost all skin types. It can be used on virtually all areas of the body, including the face, neck, chest, arms, and hands.
What to expect after laser hair removal
While laser hair removal is mostly gentle in nature, the treated areas of your skin may feel like they have a slight sunburn due to the use of lasers. When you leave our office, you are able to resume all normal activities, but you should avoid exercise or sun exposure for at least 24 hours to let the treated areas heal. At home following your appointment, we recommend anti-inflammatory creams or ice packs to alleviate any discomfort.
How much does laser hair removal cost?
A laser hair removal treatment varies in cost based on the coverage area being addressed on the body, in addition to how many sessions are needed to get optimal results. To help put the cost of laser hair removal into perspective, estimate the time and energy you currently spend on waxing, shaving, or other temporary hair removal methods. This is why laser hair removal is typically cheaper and can save you time and energy in the long-run. Our team will develop a custom treatment plan for you that includes the total number of appointments you need and pricing options to consider.
Is laser hair removal permanent?
Laser hair removal is an effective treatment for lasting improvements. While men and women can enjoy the results of the treatment for many years, it's technically semi-permanent since some hair follicles may be unaffected. Regardless, patients find the majority of the hair follicles are not growing anymore once their treatment plan is finished and if a few hairs are still growing, it's very easy to manage. Additional laser sessions may also be scheduled to address new growth and any stragglers as well.
Why do I need multiple laser hair removal sessions?
Your hair growth occurs in phases. While some hair follicles are in a live growing phase, other follicles are resting. Because each follicle is in various stages, multiple treatment sessions are recommended to target each follicle when it is in a growing phase. Getting your sessions over several weeks allows for effective results and smoother skin.
Does laser hair removal hurt?
The process of laser hair removal can cause mild discomfort, but it is not painful. Most patients may feel a slight sting when the laser targets and removes the follicle. We may apply a local anesthetic to the surface of the skin before your treatment session. For patients who have been getting waxed, they think that laser hair removal feels more comfortable compared to getting waxed.
LIVE A HAIR-FREE AND CAREFREE LIFE
If you're tired of spending time and energy on shaving, bleaching, and waxing, make a consultation to find out more about laser hair removal treatments at Modern Medical Spa in Dallas, TX. Laser hair removal will help you get skin that's smoother by effectively targeting unwanted hair follicles on the face and body.